Louis de Freycinet - commanded the Uranie to Guam
Louis de Freycinet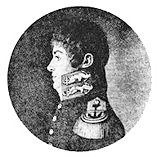 Louis de Freycinet - In 1817, he commanded the Uranie, in which Louis Isidore Duperrey, Jacques Arago, Adrien Taunay the Younger and others went to Rio de Janeiro, to take a series of pendulum measurements as well as a larger scheme for obtaining observations, not only in geography and ethnology, but in astronomy, terrestrial magnetism, and meteorology, and for the collection of specimens in natural history. Freycinet also managed to sneak his wife Rose de Freycinet aboard, with a guard of 17 officers.
For three years, Freycinet cruised about, visiting Australia, the Mariana Islands, Hawaiian Islands, and other Pacific islands, South America, and other places, and, notwithstanding the loss of the Uranie on the Falkland Islands during the return voyage, returned to France with fine collections in all departments of natural history, and with voluminous notes and drawings of the countries visited.
The results of this voyage were published under Freycinet's supervision, with the title of Voyage autour du monde sur les corvettes Uranie et la Physicienne en 1824–1844, in 13 quarto volumes and 4 folio volumes of plates and maps many of which are for sale here.
Freycinet was admitted into the French Academy of Sciences in 1825, and was one of the founders of the Paris Geographical Society. He died at Freycinet, Drôme.