Antique Maps and Prints of Guam

This is a special set of 7 Guam Antique prints. These are offset prints on heavy weight stock. eGuam Exclusive
You can also purchase fine-quality authentic antique artwork of Guam and the Pacific from our extensive collection, including individual prints in any size from those shown here. Look at the
fine Art Page
for additional prints from our collection
.
With this service you can order musuem-quality prints on several fine papers or canvas in the size you choose including custom matting and framing.

7 Piece Print Set - Freycinet Voyage to Guam - Ready for Framing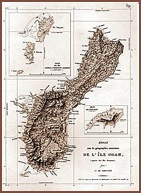 De L'Ile Guam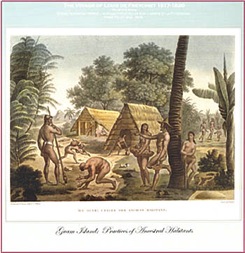 7 PRINT SET - HEAVYWEIGHT SEMI-GLOSS PAPER
6 Prints 11X15 inches 1 Print 7X9.5 inches
$15.00 Plus shipping and handling
Freycinet Voyage to Guam - Folio Print Set
1819

Great for that special gift or just gift yourself.
Guaranteed exclusive collectors item. This is a Limited Edition Printing and is not available anywhere else.
The Prints are reproduced on Beautiful Heavyweight paper stock. Each Print Measures 11 X 11.5 inches including Title and Subtitle (As shown above). The Map (at bottom left) is 7 X 9.5 inches. Show your Island Pride when you hang them in home or office. We only have a limited supply and when they are gone, they are gone. Don't Wait - Buy Now. Each Print features a reproduction of an original engraving from our extensive collection. The title above each print is the Freycinet Voyage and below each print is a translation of the French text description of each plate. Included is a Bonus page of extensive information about the Freycinet voyage to Guam and additional engravings. The bonus text features a description of the scientific exploration of Guam, a biography of Captain Freycinet and information on his wife Rose who stowed away on the 3 year voyage.The reproduction of these jpeg photos does not show the full quality and depth of color of this work of art. This is just a great gift.
The Antique Reproductions are suitable for framing to make a beautiful set of 7 prints for display.
This is a Set of 7 Reproduction Prints. ITEM No. Folio7
Use the contact form for more information or to request a special order.
We
have
hundreds of items in our inventory - only a small selection is shown here.